Principles
The consultation process showed that there is a strong commitment and agreement across the city for a cultural strategy that:
is inclusive
is accessible to all ages, cultures, communities and abilities
reflects the rich diversity of the city
builds on the heritage and values of the city
provides education and well-being
is sustainable and contributes positively to the local economy
has the vision to build Coventry's reputation as a visitor destination
It's important that this strategy is meaningful to our young people who are going to be residents, innovators, owners of business in ten years' time and it will have the biggest impact on their lives. Local councillor and community leader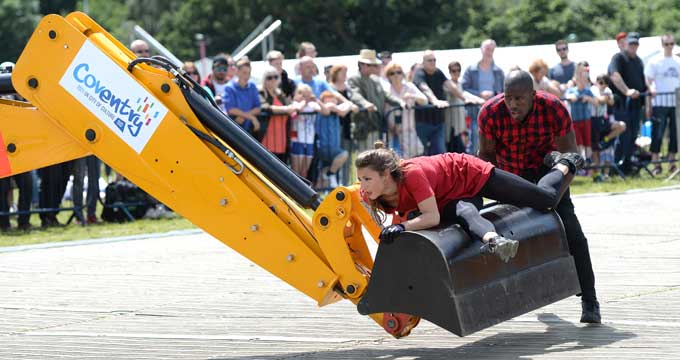 #thisiscoventry Godiva Festival July 2016 Motionhouse
---
The goals and ambitions for the strategy that follow are underpinned by a set of principles, which have evolved out of the consultation process. Its key themes reflect Coventry's unique identity and cultural needs:
Cultural growth must be inclusive of the different needs and aspirations of the residents. Access to the arts must be for all and not prevented by costs or location.
The focus must be on encouraging greater participation across the cultural landscape so that more people create and share in the city's cultural offer.
Unlocking the rich cultural diversity of the city will be a hallmark of the strategy. Diversity is key to developing a living tapestry of the many cultural groups who have made the city their home. Diversity will be key to Coventry's success as a centre for cultural and creative industries.
Lifelong learning is at the heart of the city's cultural future. Children and young people of all abilities should have access to the arts and culture in school and in their communities. Opportunities to learn and develop through the arts must reflect the needs of all generations. There must be talent pipelines in place to ensure that the next generation of artists and creatives realises its potential and is representative of the city's population.
A ten year strategy must consider how to build a future legacy over time that is sustainable and flexible to withstand fluctuations in levels of public investment and new technologies.
Cultural growth in the city must boost the tourism and creative economy and contribute to skills training and growth in the service industries. It must also encourage public and private capital investment in its built environment and landscape.