Baseline
Baseline Cultural and Heritage Capacity analysis
The cultural strategy is founded on a current audit of the cultural, heritage and public arts assets that exist in the city. The
Seven Big Ideas
build on this audit and propose new developments which taken together will contribute to the 2027 vision. Both universities have worked together on providing a baseline survey of the city including professional and amateur/community organisations.
Belgrade Youth Theatre, Credit Nicola Young
Cultural assets
There are three National Portfolio Organisations (NPOs) in the City (organisations that receive regular three/four year ACE funding) and one Major Partnership Museum (MPM) and arts organisation, Culture Coventry which delivers the MPM in partnership with Black Country Living Museum. In comparison, a city of a similar size like Leicester has nine and Birmingham, a larger regional city has thirty. A critical mass of NPOs brings with it a recognition of high quality cultural practice, stability of funding and the opportunity to forward plan a cultural programme for the city. Crucially, NPOs are funded to work with children and young people and on this basis Leicester, with nine NPOs, has a much greater capacity to engage children and young people with professional arts organisations despite having a similar sized population. More work could be done to develop the city's arts organisations to a level where they are able to achieve NPO status. Coventry has, benefitted from the Arts Council England, Museums and Schools programme; a four year programme funded through the Department of Education as a response to key recommendations from the Henley Review. Delivered by Culture Coventry in partnership with the V&A museum, the programme has seen more than 650 Schools and over 26,500 pupils visit the Herbert Art Gallery & Museum, Coventry Transport Museum and the Lunt Roman Fort on at least two occasions since the programme began in 2012. The NPOs represent 85% of the economic turnover of not-for-profit cultural organisations in the city and 44% of their funding comes from earned income. They remain vulnerable to fluctuations in public investment from national and local sources which provide 56% of their funding.
Cultural capacity
An important part of the cultural strategy is to identify and support the spaces and places where cultural activity takes place. The city has seen significant investment in facilities over the past ten years including at the Belgrade Theatre, Coventry Transport Museum, Herbert Art Gallery and Museum and Warwick Arts Centre. Amongst the NPOs, Belgrade Theatre is a well-managed cultural resource with a loyal audience and a clear artistic policy, although its capacity to programme innovative work has been restricted by recent budget challenges. The Belgrade has ambitious plans to achieve a 70% earned income target by 2020 to offset these challenges. It is a production base, a receiving venue, an education space and a regular meeting place. The Belgrade Hub reaches out to communities, other cultural organisations and young people throughout the city. It has good national links through co-commissioning but fewer international links despite its name. The bid for UK City of Culture 2021 offers a valuable platform to realise its full potential as a producer. The Belgrade has international significance via its history of creating the TIE (Theatre in Education) movement. It has been the training ground and launch pad for many of the city's other organisations – Imagineer Productions and EGO Performance were set up by Belgrade alumni. The theatre continues to build on this support for emerging local talent through its growing artist development programme, including its Springboard initiative. Its outreach community work and engagement with diverse communities is one of its real strengths. Warwick Arts Centre is one of the largest multi-artform venues in the UK and has a considerable reputation nationally and internationally. As a regional creative hub it is a commissioner and collaborator, supporting artists and companies regionally, nationally and internationally and providing a strong leadership role across Coventry. It has commissioned and supported many of the city's agencies including Ludic Rooms, Mercurial Dance and Shop Front Theatre. Alongside its performance venues, Warwick Arts Centre also includes the Mead Gallery, a cinema and a visual arts trail across the university campus. Warwick Arts Centre is committed to improving access to arts and culture across the city and delivers inspirational programmes of creative learning through public events, projects, skills development and research. Its education programme targets schools in wards with the lowest rates of participation in the arts with their flagship Boys Dancing project attracting national attention. Warwick Arts Centre's reputation offers multiple links and connections to UK wide and international producers and is developing facilities to provide a regional centre of excellence in creative digital industries innovation. Since 1992, Talking Birds has been producing thoughtful, playful, resonant, mischievous and transformative meditations on people and place. Their work is characterised by a distinctive blend of humour, music and visual flair in venues both conventional and unconventional across the UK and internationally – from the Queen Elizabeth Hall on the South Bank, to Kilkenny Livestock Mart; from a cavernous underground car park in Scarborough, to a decommissioned hospital in Coventry and to a giant aluminium whale which swallows up audiences one at a time. The MPM, Culture Coventry manages Coventry Transport Museum, Coventry Archives & Research Centre, the Herbert Art Gallery & Museum, the Lunt Roman Fort and the Old Grammar School. Culture Coventry works in partnership across the museum, arts and heritage sector locally, regionally, nationally and internationally using its collections and programmes to engage and interact with audiences. Its internationally recognised and nationally Designated Collection tells the unique cultural story of Coventry's transport heritage. The Herbert Art Gallery & Museum (the Herbert) is a dynamic visual arts space and cultural heritage museum. Its exhibitions are presented in all media; conceived and developed in-house or created in partnership with national venues. Its exhibitions tour nationally and internationally and it brings national partners into the city as well as mentoring emerging artists through solo or open exhibitions. An accredited vocational learning centre, the Herbert's reputation for creative media, outreach and community work has led to it working with partners across Europe and contributing to national and international conferences on the social and community benefits of engaging with culture. The museums offer a platform for music and contemporary performing arts engaging with groups as diverse as The Enemy, Ensemble 1685 and Street Dance groups. The entire road transport holdings at the Coventry Archive & Research Centre are designated as a collection of national importance making it probably the UK's most important road transport archive.
Participation in arts and culture
At least 1 in 3 households in Coventry attended at least one cultural event last year
Wainbody and Earlsdon have the highest levels of engagement – consistent across performing arts, museums & galleries, and the household survey
Foleshill consistently has the lowest levels of engagement
Over half the attenders come from outside Coventry, with Museums and Galleries doing a better job at pulling people in from a wider geographical area
There are 'hotspots' outside Coventry, which include Kenilworth, Leamington Spa, Knowle, Hampton in Arden and Solihull
Coventry has a range of commercially run city stages or venues from the Empire to Inspire, Drapers Bar and Fargo Box. Just outside the ring road is Tin Music and Arts who promote from The Coal Vaults at the Canal Basin. The Old Grammar School has recently been refurbished as a cultural resource and music venue by Culture Coventry and adds a further asset to the range of city centre venues. Coventry Music Museum is a museum run by passionate volunteers. It is a treasure of musical history built around the '2Tone' movement but taking in a much wider musical history of the city. The Ricoh Arena and its management are a major resource for the city offering a suite of well-equipped venues for events and conferences and a stadium venue for major rock gigs. Armonico Consort, The Coventry and Warwickshire Youth Orchestra and Coventry Music Education Hub also add to the capacity, with Armonico delivering participatory projects on a scale that demonstrates an ability to manage ambitious programmes. Coventry Music Education Hub reaches over 12,000 children and young people every year. Imagineer Productions, bring together arts and engineering in their street theatre, outdoor events and festivals with a year round education and skills programme. Open Theatre Company continues to offer ground-breaking and sustained work in cultural engagement for people with learning disabilities after successfully running the Shysters Theatre Company for 14 years. Open Theatre Company supports Belgrade Theatre and other city organisations to reach out to people with a wide range of disabilities and special needs. The City Council will continue to develop and expand work with cultural organisations which engage with the most vulnerable and challenged communities in the city. The Albany Theatre, located in a mixed use development on the site of a former college, has plans to expand to create adjacent workspace. Run largely by volunteers, the space offers a venue for amateur and regular professional events, as well as film and cinematic events. The Criterion Theatre is another amateur theatre venue located nearby in Earlsdon. Coventry Artspace is an organisation that has historically linked provision of artists' studio space with a community arts programme. The organisation is in transition to being more of an artist's commissioning body with supporting residencies and artist networking. The city has a large number of Asian and Irish dance groups with the most successful winning national awards. The Positive Youth Foundation (PYF) is a social enterprise which focuses on the development of young people. Through building relationships based upon mutual trust and respect, the Foundation is able to support young people, particularly those living in challenging circumstances, move forward in their lives. Using art as a vehicle for social change, the team have been able to develop a wide range of opportunities for young people to build their personal resilience as well as raise their aspirations in making positive lifestyle choices. The 'Changing Trax' programme is the Foundation's response to supporting the city's cultural ambitions. Fargo Development Trust has programmed various events in the Fargo Box, market area, Urban Coffee Café and outdoor spaces including Coventry Pride Festival, food events and music. The 'Imagine Hillfields' exhibition by photographer Jason Tilley and social historian Ben Kyneswood (developed from the Herbert Art Gallery & Museum's participation in the national "Imagine" project" – a 5 year programme of national university led research25) was a powerful example of how cultural diversity can be given a high quality platform within communities. This has led to the creation of Photographic Archive Miners (PAM), a new organisation that aims to develop photographic archives from the City including that of Asian Photographer Masterji, Jaguar Land Rover and Courtaulds. PAM is a potentially important bridge between heritage and contemporary culture. Local promoters include Jazz Coventry with whom national organisation Jazz UK recently promoted a successful jazz festival in the city. The City Council's events budgets have been reduced in recent years however large scale public participation events such as Coventry Motofest and the city-centre British Cycling event continue to be developed through relationships with local or national partners. A central plank of the City Council's direct provision is the much loved Coventry Godiva Festival, currently an annual free music festival attracting over 140,000 visits from a family audience for a 3-day event. The festival has traditionally offered opportunities for local musicians to showcase their work across city venues prior to the main weekend through its Godiva Calling events. The addition of theatre, dance, visual art, circus and spoken word as part of the Coventry 2021 advanced programme in 2016 has also shown the potential for the festival to broaden its appeal and showcase diverse talent within the city – hosting 270 performers from 42 acts in 2016. Its audiences are genuinely diverse, drawing from a wide range of communities and across the age spectrum. More diverse and experienced mentors are needed to nurture talent in the city. Film and TV appear to be under-developed areas in terms of agency support in the city. However, Coventry University is building a new relationship with the British Film Institute (BFI) to address this gap. The existence of the Coventry Ambassadors, a group of post-2012 volunteers managed through the social enterprise EnV, is a real asset and could be used more in the city's cultural events programme. The city should look for appropriate resource and create opportunities around its 2021 bid to strengthen the commitment to volunteering as an additional pathway to careers in the cultural sector. The involvement of young people on boards such as Ego Performance and Community Arts Centre is to be commended and should be expanded in the city, so that cultural organisations in receipt of public investment who are working with young people are required to have youth representation on their board and are representative of the audiences they serve. Developing capacity in the BAME communities may be best tackled through working with young people and agencies such as Positive Youth Foundation as well as with existing employers, not just in the arts. The impact of the Marmot agenda (to reduce health inequalities) and the emphasis on the need to address the health and wellbeing of the city indicate that that are opportunities for partnership working across arts and health agendas. Evidence demonstrates that culture and sports can have a significant impact on the social determinants of health, and that participation can:
promote social interaction and building social networks
alleviate both physical and mental health problems
develop life skills, such as leadership, teamwork, cooperation, communication and creative thinking
build self-esteem, confidence and emotional resilience
raise aspiration, increase personal choice and control, and enable self-actualisation
increase concentration, helping to improve absenteeism, classroom behaviour and educational attainment among children and young people, and powers of recall in older people
encourage informal, life-long and inter-generational learning
bond communities together and build bridges between people from different backgrounds, strengthening community identify, cohesion and a sense of belonging
divert young people away from substance misuse and anti-social and criminal behaviour
provide volunteering, work experience and employment opportunities
Existing projects indicate that this is an area that arts and cultural organisations could make a considerable contribution to. Current examples of practice are being delivered by Belgrade Theatre through their Arts Gymnasium Programme, Culture Coventry through their Creative Bridges programme and Dementia engagement projects. The Pod (a well-established arts and mental health project run directly by the City Council with support from the NHS) and via voluntary sector organisations such as Arty Folks.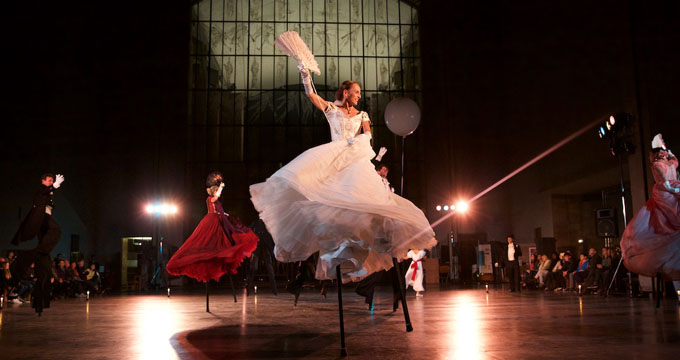 Festival of Imagineers
Heritage assets
The city has an impressive number of heritage assets including listed buildings, museums, archaeological finds and parks but only ranks 205th overall of 325 local authorities surveyed in the Heritage Index England. The ranking is low for historic built environment and higher for museums, archives and artefacts and 95th for landscape and natural heritage. There is no doubt that there is under-developed potential for the City Council to make its medieval and post-war historical built environment more visible and valued. The Heritage Index England indicates that Coventry scores very well when it comes to activities related to museums, parks, archives and artefacts. The modernist architecture of the city is another major asset, recently celebrated in a major publication by Historic England. The creation of Culture Coventry as an independent Charitable Trust to manage the city's museums and art gallery has seen a transformation of Coventry Transport Museum and has the potential to do likewise with the Herbert Art Gallery and Museum. The Trust's Board, working in partnership with the city, has ambitious plans to transform the Herbert into the city's cultural and heritage hub, signposting visitors to Coventry's cultural, creative and heritage opportunities and attractions. Plans for the development of a creative arts and performance centre at the Herbert could help it to build a sustainable future while providing much needed performance, rehearsal and creative production spaces within the city centre. The Trust contributes to Coventry's night time economy through Herbert Lates. Coventry Cathedral is one of the most important assets of the city. It has an international role in peace and reconciliation. It is one of the most important modern buildings in the UK and is a living architectural symbol of the UK's post-war reconstruction and hope. It houses a significant collection of art and has over the years been a venue to many commissions, events and performances. Both the ruins and the 'new' cathedral offer iconic venues and it is currently developing a reputation as a safe and accessible space for cultural programming. The Cathedral will celebrate its centennial in 2018. St. Mary's Guildhall is also found in the city's historic Cathedral Quarter. Dating back to the 14th Century, the Guildhall stands as a monument to the power and wealth of medieval Coventry. With magnificent interiors, collections of armour, historic furniture, artworks and internationally important tapestries, the Guildhall offers a window into Coventry's glorious past and is a an historic venue with potential for greater profile with visitors and extended cultural programming. Developments such as Fargo Village and Charterhouse have potential to transform the heritage offer of the city. Charterhouse, a 700-year-old Carthusian monastery, could become an ambitious heritage park with plans for a walking and cycling route that reveals the city's hidden River Sherbourne and creates an outdoor corridor and public art trail connecting the city to the countryside. Historic Coventry has an ambitious programme to reveal and animate other medieval property and sites within the city. Culture Coventry's recent restoration of the Grade 1 listed but derelict 14th Century Old Grammar School, and its management by Coventry Transport Museum, is an example of what can be achieved in Coventry through cultural, civic, charitable and community partnerships. The War Memorial Park, Coombe Country Park and city centre open spaces such as Broadgate, Millennium Place and University Square are some of the city's most used cultural assets. Our consultation highlighted the affection that many people hold for Coventry Market and there were calls for its development to have cultural spaces planned around it, given the central importance of food to the diverse ethnic cultures of the city. Better use of car parks, subways, places of worship, public squares, streets and the ring road as arts venues were also suggested in consultation. Coombe Abbey – although just outside the local authority boundary – is another important asset for cultural activity and has recently won awards for its management, conservation, education and visitor experience strengths. As well as providing a beautiful landscape for outdoor enjoyment for the city it is also becoming a major tourist attraction and holds a Trip Advisor Certificate of Excellence. Coventry sits surrounded by Warwickshire with major attractions such as Warwick Castle, the Royal Shakespeare Company (RSC), Shakespeare's Birthplace Trust, and the canal network. The city is just 10 minutes by train from Birmingham International airport, 20 minutes from the centre of Birmingham and less than an hour by mainline train from London. 75% of the national population live within 2 hours of the city. The City Council has a destination team within its Place Directorate and is exploring options for destination management of the city as well as working with partners at Destination Management Organisations including Shakespeare's England and Marketing Birmingham.
Public art
The University of Warwick has an extensive collection of public art in its grounds with a significant number of leading contemporary UK and international artists. Work along the canal trail could benefit from the new partnership between Arts Council and the Canal and River Trust. The potential exists to create trails in the city, which could also help with tourism and city orientation. The proposals for the Richard II Loop using old railway lines to create cycle and walking routes, offer a chance to develop a coherent programme of art commissioning – potentially working with partners such as Sustrans. There is national good practice and a manifesto for public art developed by BEAM, which could provide a basis for a plan in Coventry. Text based work, lighting and digital commissions have the potential to improve or add to the quality of public realm and safety and enjoyment of public spaces. The opportunity exists for to have a coherent policy and commitment to the commissioning and upkeep of public art drawing upon the expertise of a range of partners.
Capital projects
Warwick Arts Centre is of national significance as an Arts Council England client and has plans to expand its gallery, digital film facilities and learning programme generating a sustainable future and additional skills, jobs and tourism for the centre and conference business of the city. Located at the heart of The University of Warwick it will become a creative and digital hub where collaboration and innovation can be explored. Charterhouse forms part of a larger vision for the riverside and a new visitor route to connect the visitor attraction of the 700-year-old Carthusian Priory with Gosford Green and Fargo Village. It is a transformational project with significant job creation, skills and tourism benefits. It also offers a new outdoor event space for the city. These two projects are part of the Coventry ten-year vision for a cultural and tourism investment programme that is designed to reposition Coventry, through a sustainable capital plan, as a leading City of Culture. Other pipeline projects under consideration include:
Daimler Production Hub – a creative industries growth hub combining art and design, developed around existing facilities currently housing theatre, dance and festival producers.
FARGO Village – further development of creative workspace and cultural space in Far Gosford Street.
Cathedral – plans to remodel the access and interpretation of Coventry Cathedral as an attraction and world-class cultural venue in the heart of the city.
EGO Performance – plans to develop a youth-led arts centre of national significance close to the Coventry Transport Museum either in existing premises or in new facilities.
Albany Theatre – plans to secure creative workspace and improved audience facilities supporting an 'Arts for Life' agenda, linked to private sector development of the wider site.
Belgrade Theatre – working with partners to research sustainable cultural and tourism facilities around Belgrade Plaza.
Herbert Gallery and Museum – Culture Coventry's is exploring plans to extend the Gallery and Museum, creating an improved heritage interpretation, space for national exhibitions and a city centre conference facility.
Historic Coventry have begun their ambition to secure the heritage assets of the medieval city for the next 1,000 years.
Drapers Hall – plans to develop a music education hub in an historic property adjacent to the Cathedral, St Mary's Guildhall and the Herbert Art Gallery and Museum.
Shop Front Theatre – long-term plans to relocate and grow Coventry's unique Shop Front Theatre as a sustainable base for the growth of creative talent and the development of city centre animation and festival activity.
Creative Industries Hub – potential development of creative industries to build a critical mass of employment and business start-ups in vacant spaces and strategic locations in the city (e.g. Canal Basin).
The Tin Arts and Music – development of The Coal Vaults as a sustainable music venue growing local talent and supporting music publishing.
The consultation on the strategy highlighted a strong demand for dedicated dance space in the city. Coventry is the only major city in the UK not to have such a centre and yet it has over 102 dance groups and both Further Education and Higher Education courses in dance. A dance hub shared by the different communities of the city offers one of the best routes to engaging its diversity of the city.
Cultural tourism
The City Council has conducted regular economic evaluation of the tourism sector and linked to this strategy it has been taking a more in-depth look at its visitor profile and awareness of its visitor offer with a view to growing, in particular, the leisure market from both day and staying visitors in domestic and international visitor segments. Tourism creates businesses, generates revenue, provides jobs, and sustains retail, hotel and cultural sectors. Coventry has a relatively strong business tourism market built on local business and conferencing from its two leading universities of Warwick and Coventry, the Ricoh Arena and the NEC, which is just 10 minutes from Coventry by train. The City Council has a destination and business relationships team. Coventry has a huge amount to offer but has not fully joined up or realised its tourism potential. It now has ambitions to synergise its cultural and heritage strengths connecting: Belgrade Theatre, Warwick Arts Centre, Shop Front Theatre and other independent cultural groups; festivals such as Coventry Godiva Festival, The Festival of Imagineers and Motofest; commercial events at Ricoh Arena; Coventry Transport Museum, Herbert Art Gallery and Museum, St Mary's Guildhall, The Old Grammar School and of course, Coventry Cathedral. The city's hotel stock has seen recent improvements but needs to grow its capacity and improve the range and quality and brands on offer if it is to realise its visitor potential. Research shows external perceptions of a limited range of hotel accommodation and a lack of self-catering facilities. There are significant sites for development including the new Friargate development as a gateway to the city from the railway station and further developments at the Ricoh Arena, which already hosts a Hilton Double Tree. The city aims to get a better understanding of the visitor market and the implications of recent trends, to identify new product and marketing opportunities, and to incorporate such opportunities into regional and local strategies. A thorough and up-to-date understanding of visitors is needed to provide an evidence base for future strategy. Early output from this study has highlighted that only 28% of the UK visitor market has been to Coventry and that 77% of non-visitors cite a lack of knowledge in what Coventry has to offer. Only 16% of Coventry visitors get their information from web sites in advance compared to 78% nationally – highlighting a major deficit in curated visitor information and the city's web presence. Our research suggests that 51% of current visitors' main reason for a visit is cultural37 – to an arts event, exhibition, or heritage attraction. However there is evidence that visitors tend to visit for one thing – with the Cathedral, the Coventry Transport Museum or events being the main drivers. Visitors lack awareness of other arts facilities or activity and therefore do less and spend less than they might, particularly in the case of day visitors. The visitor profile echoes the city's own population – young and diverse. This strategy, linked to emerging work towards a destination management plan and place partnership, will see the creation of a cultural tourism group in the city, measures to improve signage and listings of event and improved web presence. The city is laying the foundations to maximise the benefits of work with external agencies such as Historic England, Heritage Lottery Fund, Arts Council England and Visit Britain.
Assessment of strengths, obstacles, opportunities and risks
In this section we reflect on what the audits, research and other sources of information tell us about Coventry's cultural strengths and opportunities and the obstacles and risks to be overcome.
Strengths
Important heritage assets from medieval times through post-war architecture to the present
Strong civic values of welcome, peace and reconciliation
A rich diversity of cultures, over 100 languages and 36.6% not of White British ethnicity
7 years younger than national average and city is the 15th largest and 9th fastest growing local authority in England
Over 300 arts and culture organisations in the city
Strong partnership with the universities, local businesses and community associations
Strong youth sector provision
Above national average active engagement with heritage including parks and open spaces
Dance is a strength across the city
City Council committed to joined-up policy making and active citizenship
Successful Music Education Hub
High quality museums with nationally regarded collections
Two leading universities
Vibrant independent cultural sector
Some visionary individuals in cultural, business and political life of the city
Obstacles
18.5% of residents living in the 10% most deprived wards in England
Significant social, economic and health inequalities between wards
Communities beyond the ring road isolated from the city centre
Negative external perceptions or lack of awareness about the city
Reductions in Grant-in-Aid to City Council
Low number of NPOs compared to similar cities
Low levels of participation in arts activities – 41% against national average of 44% and significant differences between wards
Low ranking for recognised heritage assets
Undeveloped tourism and lack of hotels
Limited marketing and communications infrastructure
Under-developed night and breakfast economy
Lack of co-ordinated cultural programming across the city
Low number of schools with Artsmark for quality cultural education offers
Lack of workspaces and cultural quarter for artists, creatives and cultural activity
Fragility of independent cultural sector
Poor web presence and what's on listings
Opportunities
Use the emergent place partnership to co-ordinate growth and investment
Join-up cultural, health, citizenship and community engagement agendas
Increase tourism and cultural economy
Use cultural programming and engagement to tackle inequalities in the city
Leverage the diversity and youthfulness of the city
Use the City of Culture 2021 Trust as a catalyst for long term partnership development
Maximise the potential of the Cathedral and its quarter
Rediscover and market modernist heritage assets
Pitch for substantial national investment from ACE, HLF and DCMS linked to a place-based partnership
Improve marketing and communications locally, regionally and nationally
Develop access, engagement and training for children and young people
LEP identified priority for culture and tourism
Developer interest in culture in the city including Friargate, Coventry Telegraph site and Fargo.
Risks
Austerity drives down the long-term aspirations of the city
Fragility of arts sector leads to loss of key players and talent and energy
There isn't sufficient cultural diversity and reach to be an inclusive and sustainable cultural vision
City of Culture momentum is lost if the city doesn't win
Coventry is marginalised by larger visions in the West Midlands Region
Loss of key individuals and personnel